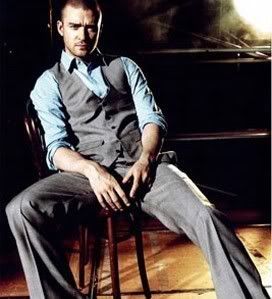 Just now i watched Grammy's and my eyes were caught on this one performance from this one hot male singer. It was JT, Justin Timberlake.
His performance was really fantastic. He did it. He really good even sang live.
That is what we called a singer and a performer.
Despite he is so HOT-TO-THE-TOP, still he can manage sang live in Grammy's and end up his performance with a blast. Thumbs up for JT!
WOOHOO! i just love it!
Uh oh yeah, just he sang Dead and Gone. He played the piano too. Good pianist though.
Bravo Mr. JT.
Frankly, i'm a fan of him. So, no doubt of being over the board here.
Looked at JT, reminds me of Abg Syazri. He looks alike.
So, that was it. Its all about JT for today. Suddenly, jadi addicted to him.
haha.
thats all for now. burbye!